DUSTLESS BLASTING MEANS NO SANDING!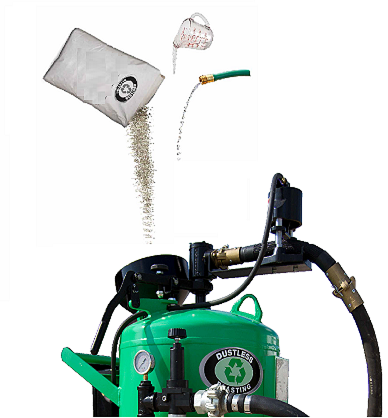 Eco-Friendly Dustless Blasting, utilizes 100% Recycled Bottle Glass, which is directly diverted from landfills. Can be used near water as there is no silica, no heavy or toxic metals.
On the CA Air Resource Board's list of Abrasives Certified for Blasting, Glass is also listed on the EPA's Guide for Blasting Grit, NIOSH report on Evaluation of Substitute Abrasives for Silica Sand. Add Water, and a Rust Inhibitor to provide a one-step READY-TO-PRIME surface.
No need to DA or hand sand. Blast and prime, it's that simple.
Dustless Blasting is a division of MMLJ, and sister company to Sanstorm. Currently seen in JCPL, Sanstorm is the American Original that lasts forever.
LIKE us on Facebook – www.facebook.com/Sanstorm
(800) 727-5707 / www.sanstorm-blasters.com