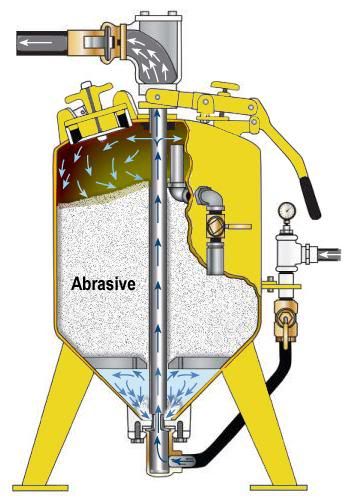 Unlike conventional gravity-fed equipment, Sanstorm's design differs in that it is non-plugging with constant abrasive discharge and positive abrasive control. See the cross-sectional view in the diagram, which reflects the principal operation. The compressed air passes through the air inlet nozzle into the outlet pipe causing a venturi type action to draw, like sucking through a straw, the abrasive into the air stream, which is now mixed and forcibly discharged from the machine.
The result – Constant abrasive discharge and non-plugging performance!
Simple: The air abrasive mixing contains no wearing parts to affect the
abrasive adjustment. This means controlled positive abrasive adjustment.
Trouble-Free: The abrasive doesn't stop nor plug during operation. All parts in the air-abrasive stream are made of the highest abrasion resistant materials such as, special hardened alloy steel, rubber, and tungsten carbide. Bottom Line: Trouble Free abrasive blasting.
Efficient and Economical: Positive Regulated Air-Abrasive mixture
means no waste, and non-plugging equals no expensive "down time."
Versatile: Sanstorm offers models which are all "multimedia" capable. What this means is that you can rely on the same
Simple, Trouble-Free, Efficient and Economical results whether you blast with coal slag, sugar sand, corn cob, walnut shell, or other abrasives.
Check out their equipment in action online at www.sanstormblasters.com or call them at (800) 727-5707 to find out more.