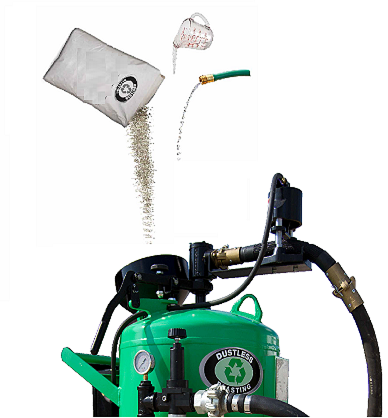 Dustless Blasting is the future of surface preparation. Specifically designed for automotive restoration, the DB150 is the perfect tool for you. You literally pour water, liquid rust inhibitor, and 50 pounds of recycled glass abrasive right into the blast vessel. The Dustless Blasting series utilizes water to encapsulate the recycled glass media, then the coating, resulting in the coating being removed and the surface profiled, without sparks, without warping, and without dust. All that is left behind is the perfect surface for primer. View the video at www.dustlessblasting.com.
Due to an overwhelming response from SEMA, MMLJ is still offering show pricing! For under $5,000, the package includes 50' 4 Ply Blast Hose, #4 Tungsten Carbide Lined Nozzle, all Texas Edition (internal parts are manufactured of hardened steel).
MMLJ is proud to be a 100% American manufacturer located in Houston, TX. Since 1941, they have been revolutionizing the abrasive blasting and surface preparation industry with well made, easy to use, innovative and productive tools. They remain the only US abrasive blast manufacturer to offer a lifetime warranty on tank assemblies.
UPCOMING SHOWS: SSPC 2012 – BOOTH #737 – Jan. 30 – Feb. 2, 2012
NACE CORROSION – Booth #2105 – Mar. 11-15, 2012-Salt Lake City, Utah
Call them at (800) 727-5707 or online at www.mmlj.com.