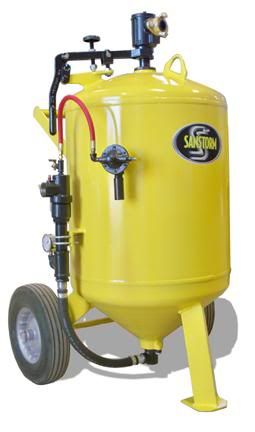 Sanstorm's new portable HEW series allows you to blast what you want, when and wherever you need it! Sanstorm's patented clog-free technology is simple, versatile, and efficient… making it the blaster of choice for the Construction Market. Sanstorm Multi Media Blasters take heavy duty wear with very low to often no maintenance.
The HEW Series comes with swivel that permits 340º Blast Hose Movement and a replaceable Elbow Insert made of refined, one-piece molded Hardened Steel. It features an abrasive Shut off Lever for clean air use. The Outlet Pipe Vent equalizes air pressure in the air abrasive Mixing Area using a Venturi-type action to assure Positive Abrasion Control and Constant Abrasion Discharge.
No matter the weather or conditions, Sanstorm performs…even in below zero weather. The machines last for decades. Celebrating nearly seventy years of excellence, MMLJ remains the only Abrasive Blast Manufacturer offering a lifetime warranty on tank assemblies. Proudly made in the USA. Check out their equipment in action online at www.sanstormblasters.com or call them at (800) 727-5707 to find out more.